Underage Gambling
Underage Gambling has a solution…YOU!
This program provides education and support for family members affected by the problem gambling of a loved one. Staff provide educational outreach awareness presentations to requesting school and community groups about the inherent risks of problem gambling.
2016 YOU(th) Decide Media Literacy Project/Calling all Youth Advocates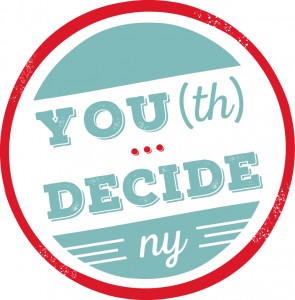 NCADD-RA is partnering with the New York Council on Problem Gambling on the 2016 YOU(th) Decide outreach project. Our primary target audience is youth ages 12-17. Project goals include:
Increase the awareness of the issue of underage gambling and the importance of decreasing youth access to gambling among parents of school aged youth and community leaders
Increase awareness of key media literacy facts
Increase youth awareness of the common misconceptions of gambling
Increase parental action toward the issue of underage gambling
During this project, which runs through October 30, 2016, NCADD-RA will be offering, upon request, youth problem gambling media literacy training. Additionally we are seeking youth who are interested in becoming involved in advocacy activities in their school or community. Sample policies will be shared with youth to advocate for gambling-free events and/or gambling policies in their school and/or community.
For further information on how you can be involved in effecting policy change at an upcoming event at your school or after-school club, contact Jennifer Faringer at (585) 719-3480 or email jfaringer@depaul.org.
"Calling all Youth" NCADD-RA seeking youth advocates
Calling all youth – NCADD-RA seeking submissions for 2016 YOU(th) Decide Art Contest
Monroe County youth between the ages of 12 and 17 are invited to participate in an art contest to help correct the myths some youth hold about gambling and help spread the truth about gambling. Anyone between the ages of 12 and 17, living in New York State may participate. Art work should focus on revealing one of the following truths about gambling:
Good luck charms play no part in winning or losing.
Most people who gamble lose.
Gambling can become an addiction.
Gambling comes with no guarantees.
Underage gambling is not safe.
2016 Art Contest Information – Submission deadline May 25, 2016
For more information and materials:
NCADD-RA YOU(th) Decide Art Contest Press Release
---
Parent/Adult Community Presentations
Presentations are available upon request to parent and community groups to increase awareness to the potential risks of problem gambling with special emphasis on the risks associated with underage problem gambling.
Parent Tool Kit
Get the facts
Recognizing the signs of problem gambling is the first step toward helping someone you care about or getting help yourself.
Myths
Self-Evaluation
Infographics
View the Campaign Ads
Gamblers Anonymous
For more information on problem gambling, please contact Jennifer Faringer, NCADD-RA Director, at (585) 719-3480 or jfaringer@depaul.org.