Fetal Alcohol Spectrum Disorder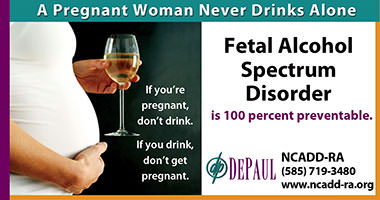 Fetal Alcohol Spectrum Disorder (FASD) is an umbrella term describing the range of effects that can occur in an individual exposed to alcohol. Effects may include physical, mental, behavioral, and/or learning disabilities with life-long implications. Disabilities due to prenatal exposure range from mild to severe.
Fact Sheet (English)
Fact Sheet (Spanish)
Alcohol and Pregnancy CDC Vital Signs Report Feb. 2016
What You Need to Know: Facts about FASDs
Infographic
Campaign Ad
FASD Parent Resources
Diagnosis Services
Kirch Developmental Services Center
601 Elmwood Ave, Box 671
Rochester, NY 14642
(585) 275-2986
Fax: (585) 275-3366
www.Golisano.URMC.edu/Kirch
Luther K. Robinson, MD
Jericho Road Community Health Center
184 Barton Street
Buffalo, NY  14213
716-881-6191
www.JRCHC.org
Early Intervention Services
Contact: Christie Petrenko, PhD
Mt. Hope Family Center, University of Rochester
187 Fitzhugh Street, Rochester NY 14608
(585) 275-2991
christie.petrenko@rochester.edu
NCADD-RA is the Upstate New York affiliate of the National Organization on Fetal Alcohol Syndrome.